Disclaimer: Sometimes it does happen that maybe another person with a similar bike might be having different experiences with the same oil- I guess it also depends on one's way or riding and the way the bike is maintained. Also my experience is limited to only 2 bikes that I've owned i.e the Pulsar 150 DTSi V1 and the Hero Honda Karizma. A good review of one oil in one bike might not necessarily be good in other for e.g. the Petronas Sprinta feels good in the Karizma, but not in the Pulsar. Will keep the review short in a couple of sentences, ranking them in the order I found them best.
I'll start with my Pulsar 150 DTSi- my experience based on the relationship I had this bike for 1,70,000 kms.
1) Motul 300V (15W50) Factory Line- Fully Synthetic
The BEST oil I've ever used. Nothing comes close- when I say this, I mean it. Though on the expensive side, it justifies the price- in fact it turns out to be much cheaper than other oils. Longer drain interval of 10,000 kms (I remember draining this oil at 9800 kms and it still held up so well), smoother engine, good gear shift feel, holding up well at higher revs. Drain interval anywhere between 5000 - 10,000 kms. But level needs to be checked as FS oils tend to vapourise. It didn't in my case though.
2) Motul 5100 (15W50)- Semi Synthetic
Another gem of an oil from the Motul stable. This might feel very ordinary in trotting around the city at 50-60 kph, but whack the throttle and it starts to show its character. Feels extremely great at high rpms and doesn't give that feeling of engine overheating. I did the SaddleSore on this oil and it was awesome. Drain interval 4000-5000 kms.
3) Fuchs Silkolene (20W50) Semi Synthetic
If there's one oil that can match the Motul twins- then this was it. Unfortunately the company has stopped production of this oil long back. I was lucky to have it on more than one ocassion- thanks to my friend who worked for Fuchs. Wish it was there in the market. Drain interval 3500 - 4500 kms.
4) Elf Moto4 Pro (20W40)- Mineral
A very rare oil to find, used it thrice and it does its duty well. Though not as smooth as the 300V or the 5100, but it doesn't disappoint. Behaves well even at extended triple digit bursts. Drain interval 3000 kms.
5) Valvoline 4T Premium (20W50)- Semi Synthetic
Nice engine oil- comes very close to the feel of the Motul 5100. Only downside is that it loses life around 2500 kms of running. But certainly not a bad try.
6) Elf Moto4 Gold (20W40) Mineral
Good oil, though not as good as the Moto4 Pro in terms of smoothness, but good enough. Drain interval 2000-3000 kms.
7) Castrol Power1 (15W40) Semi Synthetic.
Good oil for use in city and speeds upto 80 kph. Push to higher rpms and I feel it loses it viscosity. Performance doesn't justify the cost. Drain period 2500-3000 kms.
8) Idemitsu Honda OEM engine oil (20W40) Mineral
Surprisingly this oil worked well, much much better than its Castrol counterparts. It was great for city commuting- nice smooth feel, but higher up the range and it will back out. Unfortunately the one that I used was the imported batch and at present the Honda OEM oil is manufactured locally- I used both and could very much make out the difference. Drain period 2000-3000 kms.
9) Petronas Sprinta 5000 (20W40) fully synthetic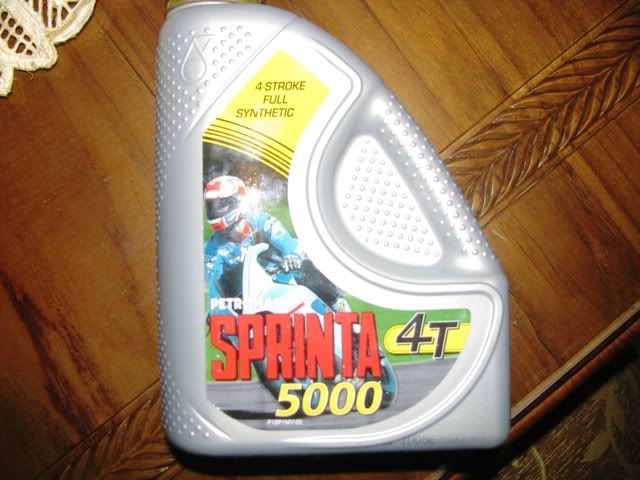 Feels ok- rather feels average. The Elf Moto4 Pro and the Moto4 Gold feel much better. Drain period 3000-4000 kms.
10) Castrol Activ 4T (20W40) Mineral
Acceptable performance for doing rounds in the city. The Elf twins do a much better job than this. Drain period 1500- 2500 kms.
11) Petronas Sprinta 4000 (15W50) semi synthetic
Ditto as the Sprinta 5000. Drain period 2000-3000 kms.
12) Castrol Activ Xtra (20W50) Mineral Oil
Bad experience using this. Engine feels rough, in fact feels like someone has put sand particles into my engine. Drain period- 2500 - 3000 kms.
13) Pennzoil (20W40) Mineral Oil
Something which I would run away from the moment I see it. Very average and surprisingly despite being mineral, it tends to vapourise. Drain period: Won't use it for even a 1000 kms, but still I can say around 2000 kms.
14) Veedol Superswift (10W40) Semi Synthetic
The worst oil ever....engine felt so so rough. I drained it within 200 kms of running. Can't comment on drain period- resolved to never ever use it .
Now coming to My Karizma. Getting close to 50,000 kms since I bought it and didn't use as much variety
1) Petronas Sprinta 5000 (20W40) fully synthetic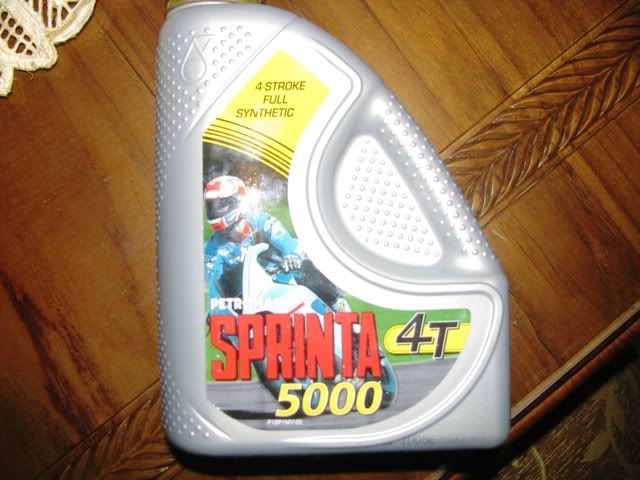 The best oil I can say for the ZMA. Its the same oil that felt so average on my Pulsar and feels so nice on the ZMA both in the city and touring. Drain interval: 3000-4000kms.
2) Gulf Pride 4T Plus (20W40) Mineral Oil
I just tried this oil for the heck of it and I was surprised by the performance. It feels very normal initially, but 100-200 kms on the odometer, and it starts to ease out. Lovely smooth feel to the engine, feel-good gearshifts and even holding up well at 100 kph cruising. Worth every penny! 100% recommended. Though the label mentions a drain interval at 10,000 kms, I generally change it at 3000-4000 kms.
3) Shell Advance AX7 (10W40) Semi Synthetic
Used this oil on my Bun Burner Sprint- very similar to the Motul 5100 in the Pulsar..feels very normal under sedate riding conditions, but keeps up well at high speeds. Drain interval: 3000-4000 kms.
4) Hero Honda OEM (10W30) Mineral.
I would say very good oil if you are restricted to commuting. High speed runs and it loses steam. Drain interval: 2000 kms
5) Castrol Power1 (15W40) Semi Synthetic.
Very similar to the HH OEM oil. Performance doesn't justify the cost. Drain interval: 2500-3000 kms.
6) Motul 3000 4T Plus (20W40) Mineral
A few of my friends always said that Motul doesn't work well in the ZMA- though they used the other variety, but I think its true. Not sure why- but the engine feels very stressed. Gear shifts took that slight extra effort to tap into place. In fact when I drained it and went back to Gulf Pride 4T Plus- the engine behaved completely different. Would give this a skip any time. Drain interval: 3000 kms.