It had been some time since I took a ride to actually laze around and "do nothing" as it were, recent rides being frantic dashes to distant places to save time. The agenda for this ride was to reach, relax and get rid of the chicken strips on the way back. The destination was Tapola, on the shores of the Koyna reservoir. There was no booking, I would choose the place to stay on arrival, a luxury that one can afford on weekdays.
Start:
There was no traffic, I was at Panvel in 45 minutes. Unfortunately, the rest of that ride was not so nice. It was cold. I was not wearing the usual insulated jacket but the denim one with armour, knowing that the day would be searingly hot. I mean, cold in APRIL? I wasn't even carrying any long sleeved T shirts. NH 17 is also a pretty crappy road at night, what with the construction work that has started and the fact that you face an endless stream of high beams. All the same, it was just about daybreak when I turned from Poladpur towards M'war and started to climb. As I reached the Pratapgarh junction the weather changed. Til then it was cool, which, combined with wind chill, made it cold. Now, it felt like a direct blast from the freezer. Time to thaw out and take a few pictures.
The only real plus point of reaching at the crack of dawn was the fact that the extortion cell which penalizes tourists for visiting M'war was not manned yet, so - no entry tax. I think they should give discount vouchers redeemable in M'war as a gesture of appreciation instead – without them the economy of this place would collapse. Anyways he bitter cold made me stop at the first food joint that was open for some chai and Omlette pav. Feeling much better, I moved on towards Tapola.
First view of the lake.
Boat on the river.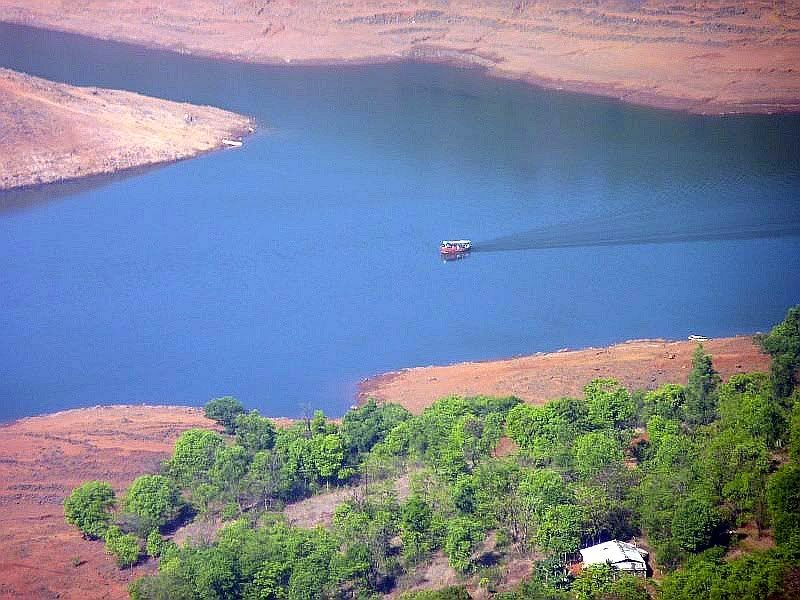 Village far below
The Dutt Mandir (tourist attraction), trek required to reach it, on the opposite bank
You'll be able to see both as specks on the first photo
Finally I reached Tapola and made sme enquiries about the boating, accommodation, etc, and finally decided that I'd rather stay in tented accommodation some distance away, where they had watersports activities in the package itself. Mahabaleshwar agro tourism, boat ride, water scooter, swimming in the lake , all the kayaking you want, bullock cart rides, all meals + acco @ 1.5K for 24 hours. Considering the fact that the boat ride itself costs 600 bucks at Tapola, this was not an unreasonable package. More important – tent, no hotel like atmosphere and I practically ad the whole place to myself.
Parked outside the tent. 10am, and the day's riding is over.
Inside
View from the tent towards the reservoir